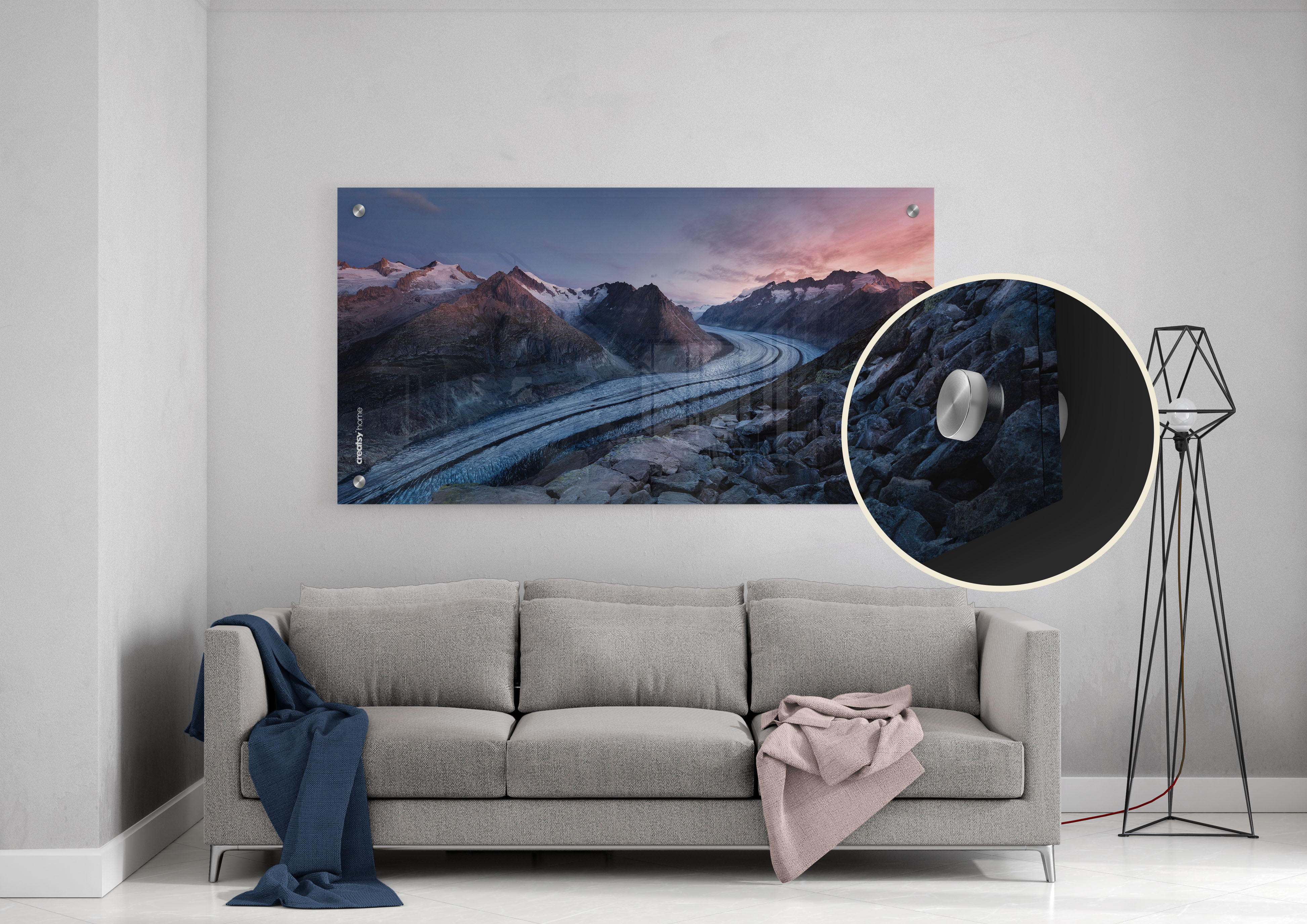 Acrylic Prints
Printing on acrylic perspex panels produces a more intense and luminous result than any other print medium today. They're waterproof and highly durable, ideal for high-end signage, for wedding photographs, gifts or other family photos, and they look wonderful in the home. Professionals use custom phone printing in studios, galleries and exhibitions and for many promotional purposes. Purple Monkey provides the very best digital images, printed direct to the surface on the reverse to protect the image, using long-lasting eco-friendly UV inks, and the best quality presses on the market. Available in 5mm and 10mm thicknesses and a range of sizes.
Choose Printing Options

Acrylic Prints.
Print: Digital eco friendly UV ink CMYK+LmLc or white.
Print method: Direct to Material with either a white overprint or white vinyl applied to the back.
Material: Our high-quality, specially hardened acrylic is suitable for both external and internal use.
Fixings: Adhesive picture hanging strips, Stand off Studs.
Size: 8ft x 4ft, A0, A1, A2, A3, A4 and A5.

Need artwork producing?

We have an outstanding design Team here at Purple Monkey, capable of a quick turnaround to meet your deadlines. We simply charge £30.00 an hour + VAT.
Simple Change: If you have a simple change to the artwork file then give us a call on 01745 341671, this could take less than 1 hour and less than £30.00 + VAT.
8ft x 4ft Acrylic Template A0 Acrylic Template

PDF Template Download

PDF Template Download

PSD Template Download

PSD Template Download

JPEG Template Download

JPEG Template Download
A1 Acrylic Template A2 Acrylic Template

PDF Template Download

PDF Template Download

PSD Template Download

PSD Template Download

JPEG Template Download

JPEG Template Download
A3 Acrylic Template A4 Acrylic Template

PDF Template Download

PDF Template Download

PSD Template Download

PSD Template Download

JPEG Template Download

JPEG Template Download
A5 Acrylic Template

PDF Template Download

PSD Template Download

JPEG Template Download
Order Summary
Product Name
Acrylic Prints
Turnaround
Standard: 4-5 Working Days (files before 11.00)