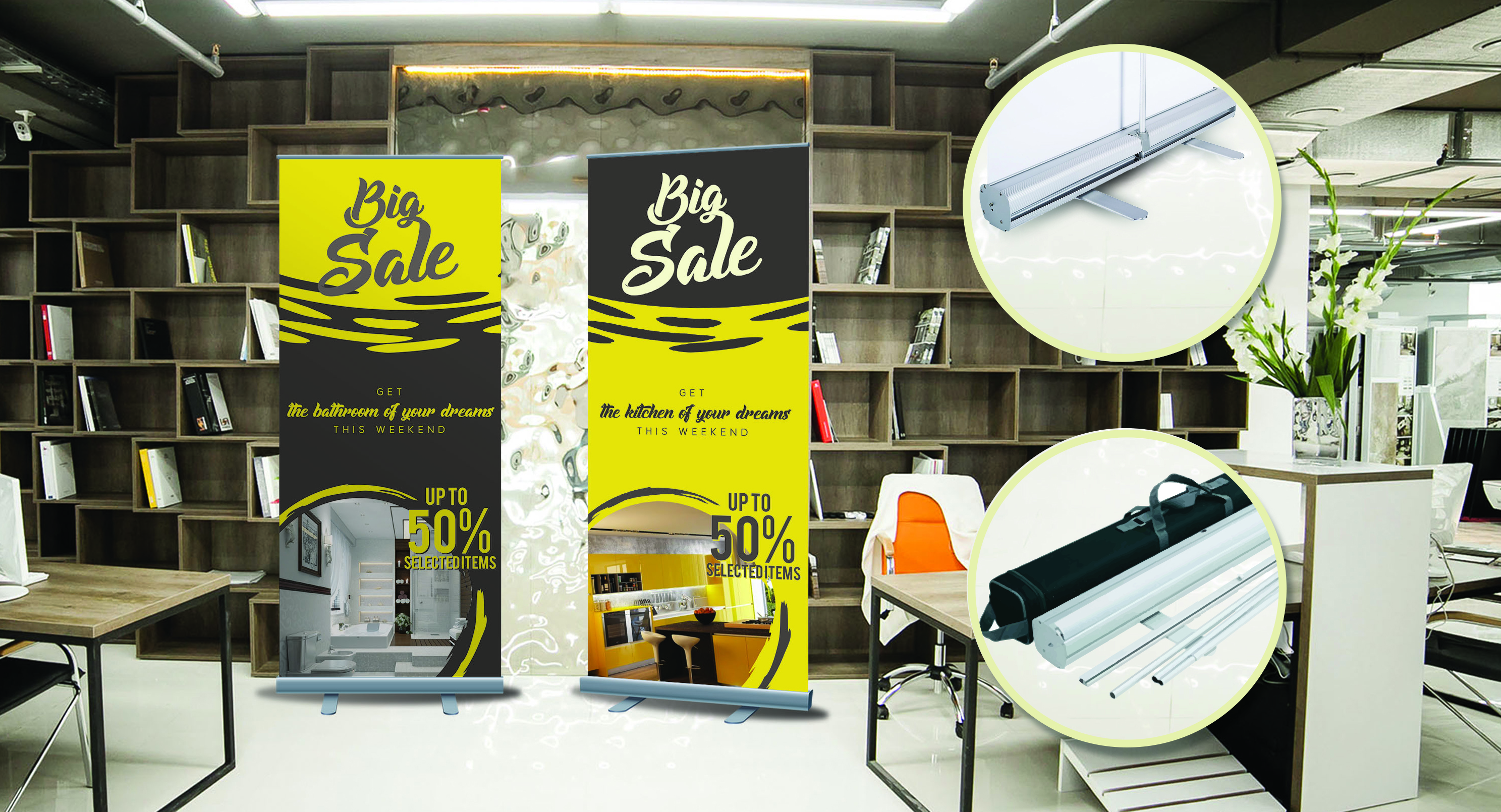 The benefits of choosing a double-sided roller banner
1 May 2018
If you're looking for a high-impact, flexible and cost-effective means of marketing your business, then a double-sided roller banner is well worth adding to your visual marketing mix.
Let's take a look at why businesses of all sizes love roller banners and the benefits that they provide.
Visibility
Roll up banners are highly visible and a great way to promote your brand or campaign in an immediate way.
Flexibility
Roller banners are also extremely flexible. They are light and easy to transport in their carry bag, meaning that your promo team can take them to events, place them at entrances to promotional locations, use them for signposting and add them as a flag-up for POS displays. Whatever your need, a roll up banner will provide immediate, flexible and engaging visibility for your business.
Quick and easy
Simply pull your banner out of its stand and then adjust the aluminium pole to your desired height and snap the banner to the pole. Take the pole out of the stand when you're finished and the banner will automatically retract, ready to go back into its carry bag.
Full personalisation
Your graphic designer can add anything to your roller banners, including your branding, visuals, key messages, promotions, directions, product features or other campaign elements. Many businesses choose to invest in a number of banners that can be used for a variety of occasions.
Eye-catching
A roller banner is great for an event or a place where you want customers to direct their attention as it is immediately visible. Pair it with a table of your promotional materials and you will create a central visual point that will attract attention and encourage your audience to come over!
Cost-effective
Roller banners are extremely cost-effective and won't make a big dent in your marketing budget, unlike many other methods of marketing and promotion!
Longevity
When it is well looked after, a double-sided roller banner will really last the test of time. Simply store it in the carry bag when it's not in use, and the contents will be protected from dust and grime and be ready for use whenever you need it.
Purple Monkey
Purple Monkey is a new and adventurous company based near Rhyl, North Wales. We never say no to a challenge, we're experts in the field of direct digital printing, and we can undertake any project, no matter how big or how small, with fast, reliable and compelling results. We'd like to say that we can print on anything – though so far, we are having a little difficulty with printing on actual monkeys.
Upload your own photos, designs or artwork, to produce the most personal and beautifully customised results that even a Purple Monkey could envisage or drop us a line today to ask our expert team if you need any advise or assistance.