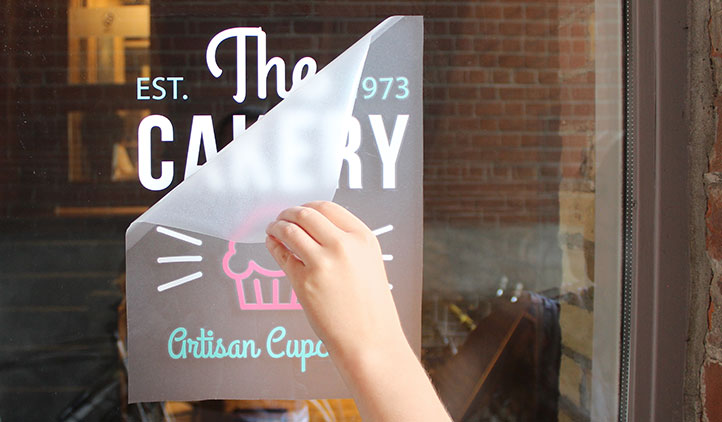 Top tips for creating awesome custom window graphics
12 January 2018
To survive and thrive in business, you need to get people to your location and make them interested in the service or goods you are providing. Remember you only get one chance to make a good first impression when someone walks past your store, and the perfect way to create easy to understand, eye-catching signage is through custom window graphics.
Custom window graphics do more than just showcase your business name. They give you an opportunity to inform, advertise and educate potential customers on what it is you have to offer. It gives you a chance to draw the customer in.
So, for you to achieve the perfect custom window graphics, we've put together some top tips to make them awesome!
Consider the size of your window graphic
Passersby move quickly, so readability is imperative to catching attention and ensuring your potential customer actually understands what is being said. The larger the graphics and letters then the easier they will be to read. It's been suggested that when you are calculating the relationship between viewing distance and size of font/graphic, you use a 25-millimetre cap height for every 7.5 meters of distance.
With window graphics often less is more
You don't want your custom window graphics to be too chaotic and sell your whole story, rather they are there to entice and lure your customers in to find out more. Choose your most compelling message to showcase, then continue to convey that message when people have entered your space.
Make your window sticker obvious, use contrasts
A sign's contrast directly impacts its retention and readability. If you use similar colours for both your lettering and background, it can decrease the ease of reading the sign. You should aim to use to opposite features; for example, if the background is dark, then the writing should be light, and vice versa.
Consider the use of colour on your graphics
Remember colours play a large role in showcasing your brand. Colours have the ability to stick in a customer's mind and evoke certain feelings and emotions, so you'll want to use colours that complement or mirror the look and feel of your overall business message. You should also consider how much sunlight will be impacting your custom window graphic as a vast amount could cause them to fade over time.
When executed well, custom window graphics are a brilliant, easy and affordable way to encourage people to visit your business. If you're interested in vinyl stickers or custom window graphics for your business, then get in touch with us today.
Purple Monkey
Purple Monkey is a new and adventurous company based near Rhyl, North Wales. We never say no to a challenge, we're experts in the field of direct digital printing, and we can undertake any project, no matter how big or how small, with fast, reliable and compelling results. We'd like to say that we can print on anything – though so far, we are having a little difficulty with printing on actual monkeys.
Upload your own photos, designs or artwork, to produce the most personal and beautifully customised results that even a Purple Monkey could envisage or drop us a line today to ask our expert team if you need any advise or assistance.